Problem:
Skype Error message when signing in: "Can't sign in to Skype for Business – There was a problem acquiring a personal certificate required to sign in. If the problem continues, please contact your support team".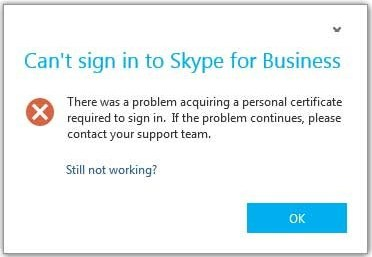 Uninstalling or reinstalling Office 365 software is not going to help you. There are a couple of solutions here.
Solution 1
Open Skype for Business login window and click on "delete my sign-in info". Then – type in the login details and password again and try to log in.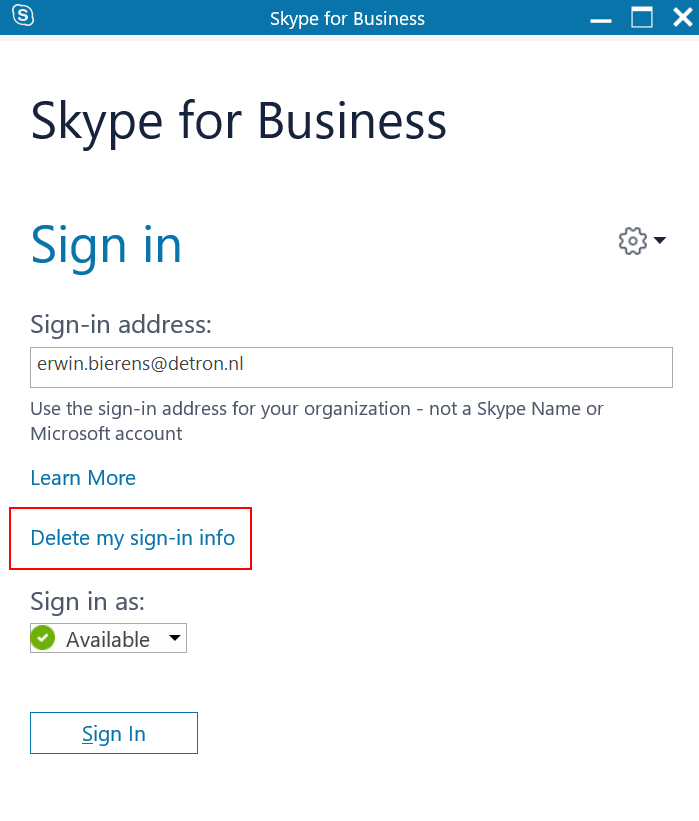 Skype delete my sign-in info
Solution 2
Clear Skype for Business's cache:
Go to "C:\Users<username>\AppData\Local\Microsoft\Office\16.0\Lync" and delete the specific user's sip (Session Initiation Protocol) folder.
Go to "C:\Users\Erwin\AppData\Local\Microsoft\Office\16.0\Lync\Tracing\" and Delete All files. DO NOT DELETE ANY FOLDERS.
Open the registry editor (Start + R -> type regedit -> Enter), go to "HKEY_CURRENT_USER\Software\Microsoft\office\16.0\Lync" and delete the specific user's expandable sip profile folder (the one that contains the user's email address to sign in to Skype):

Clear Skype's cache
---
comments powered by

Disqus