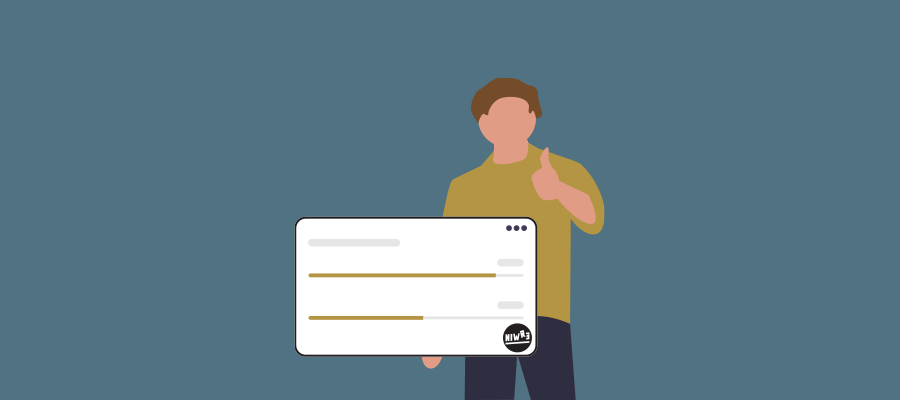 Anyone who spends a large part of the day video conferencing knows what it's like: headset head. Unpleasant, but a decent headset is still the best tool for good sound quality. The built-in microphone on a webcam just doesn't compare, not to mention the annoyance of feedback caused by poorly placed speakers on your desk or loudly colleagues.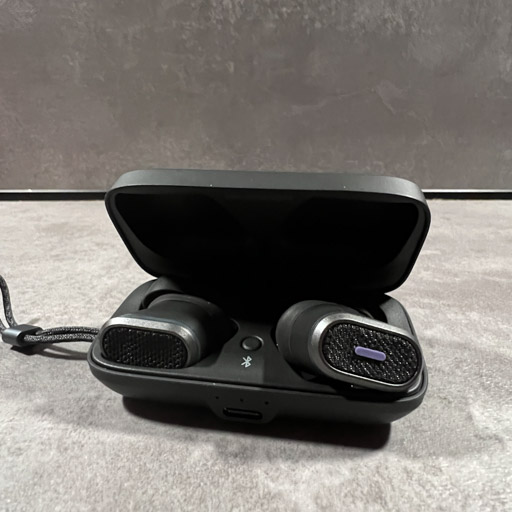 Logitech promises with the Zone True Wireless Earbuds a set of in-ear headphones that delivers immersive experiences that help you sound clear, stay connected and confident. The company has done two years of research and development for this. By using three microphones per earbud (6 in total), voice sounds are separated from ambient noise (advanced beamforming). One of these microphones is inward-facing and uses the recorded vibrations (bone conduction) to isolate the speech signal even better.
After testing a week with the Logitech Zone True Wireless earbuds this is my experience.
What do you get?
So what do you get when you buy these earbuds:
One pair of earbuds with M-sized eargels (available in color Graphite or Rose)
One wireless charging case
One USB-A receiver
One USB-C to A adapter
Two sets of replaceable eargels (S, L)
One USB-C to A charging cable
One cloth travel bag
User documentation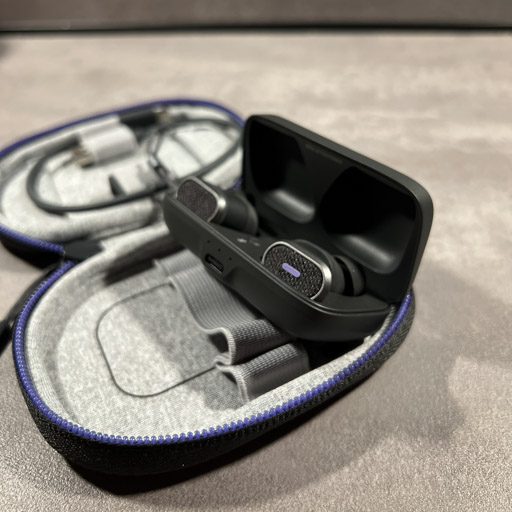 Comfortable Fit and Active Noise Cancellation
One of the most important aspects of any pair of earbuds is the fit. The Logitech Zone True Wireless earbuds are designed to be comfortable for extended use, with soft silicone tips (provided with 3 sets of different EarGels sizes) that provide a secure fit. The certified noise canceling mics, hybrid ANC and immersive sound are ideal for collaboration in busy workspaces without compromising on the quality, productivity or creativity.
Responsive Touch Controls
The touch controls on the Logitech Zone True Wireless earbuds are responsive and make it easy to adjust volume and skip tracks. You don't have to take your phone out of your pocket or purse to make adjustments, which is a great convenience when you're on the go.
Compact Charging Case and Fast Charging
The charging case for the Logitech Zone True Wireless earbuds is compact and fits easily in your pocket. The earbuds have fast charging, in 5 minutes you can talk or listen to music up to an 1 hour. With a full charge you are able to talk up to 5 hours with ANC on, and 6 hours with ANC off. The charging case is Qi certified, so wireless charging is also available.
The case is fully up to charge in 2,5 hours.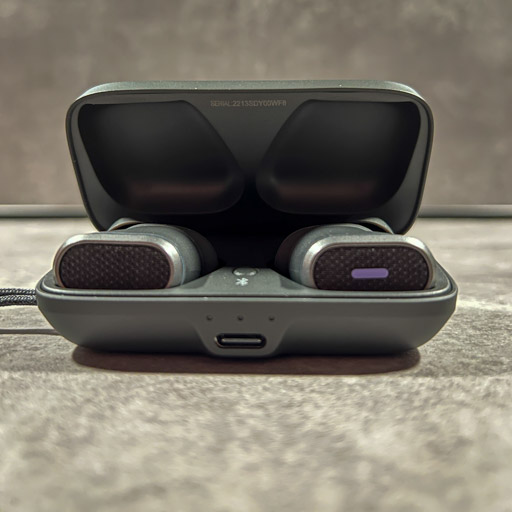 Sound Quality
The sound quality (12mm lage drivers) of the Logitech Zone True Wireless earbuds is solid, with clear and balanced audio. The bass is punchy without being overpowering the sound, and the mids and highs are well-defined. Whether you're listening to music, podcasts, or taking Teams calls, the Logitech Zone True Wireless earbuds provide you a great listening experience.
There are 3 pre-defined levels of sound quality in the equalizer, which are default, Volume boost and Podcast. I've noticed if you like to focus on your meetings, podcast mode is balancing nicely for you. You can also create your own preset in the equalizer using the Logi Tune app.
Logi Tune
Logi Tune is a free desktop application that let you optimize, update, configure your personal Logitech devices in one place.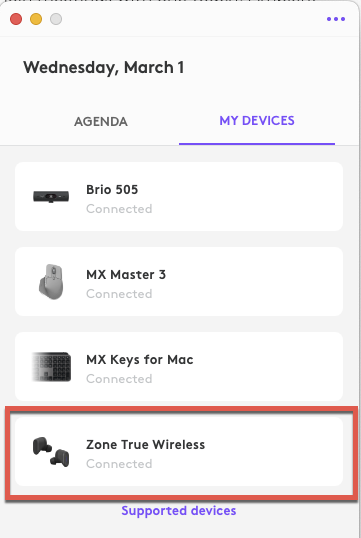 You can change your settings here easy. (even the button functions are configurable per earbud, Big Smile! :D)
Certifications
Logitech's efforts have resulted in the new Zone in-ear headsets being certified for Microsoft Teams (with Dongle for your PC or Laptop), Zoom, and Google Meet. According to the company, they are the first true wireless earbuds to have achieved this.
Additionally, they are compatible with Cisco Webex, BlueJeans, and GoToMeeting.
Conclusion
The Logitech Zone True Wireless earbuds are a great option for those looking for a premium pair of true wireless earbuds. With solid sound quality, comfortable fit, and a range of features, they offer a great value for the price. In a busy corporate environment the buds do have a some disadvantage that ambient noise is picked up by the microphones but in comparison with the Jabra Evolve2 Buds this is a lot less.
Some big advantages for me are:
The extra USB-C adapter for converting the dongle or charging cable.
Logi Tune application contains all Logitech personal devices (Keyboard, mouse, Webcam, headsets) to manage in one place.
The eargels feel really good and comfortable, after some time i even forget i still have the buds in my ears.
Disclaimer: This review is based on my own experience with the product. I am not getting paid by the supplier in any way.